Green Day : Billie Joe Armstrong explique pourquoi le titre du nouvel album est censuré
Green Day (punk rock) fait actuellement la couverture du nouveau Kerrang!, l'occasion d'interviewer le groupe et de parler un peu plus de son 13ème album à venir, Father of All...
Parmi les nouveautés surprenantes de ce nouvel opus, difficile de ne pas parler du titre, annoncé au départ comme étant Father of All Motherfuckers, avant d'être renommé en Father of All..., alors qu'une licorne apparaît sur l'artwork pour masquer partiellement le dernier mot. Le magazine a bien entendu demander au frontman Billie Joe Armstrong l'origine de ce changement :
'Pour les adultes, il s'intitule Father of All Motherfuckers, puis pour les enfants et pour la censure, c'est Father of All (rires). Ça a toujours été Father of All… , ou presque. J'ai fait l'artwork et j'ai griffonné "Father of all Motherfuckers' sur la pochette de l'album American Idiot. Quelqu'un m'a dit : 'Vous n'arriverez jamais à mettre 'motherfuckers' là-dessus', et je me suis dit : 'Eh bien, faites plaisir à tout le monde et mettez une putain de licorne dessus !' Puis j'ai dessiné une licorne et je l'ai mise par dessus. C'est assez drôle, parce que la licorne est devenue cette icône.'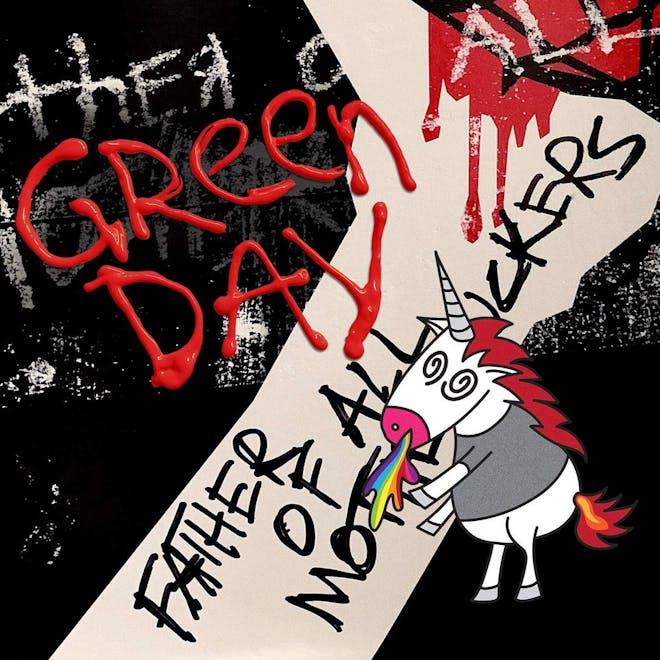 Discutant de
l'origine tu titre l'an dernier
, Billie Joe expliquait :
"C'est juste un titre badass. Je crois que c'était Kerry King de Slayer - ils avaient un album intitulé God Hates Us All, et quelqu'un avait demandé, 'Tu crois vraiment que Dieu nous déteste nous ?' Et il avait répondu, "Je ne sais pas ! C'est juste un titre badass !' Dès que le titre est venu, on s'est dit, 'Oh mec, c'est cool.'"
Father of All...
sort ce vendredi 7 février.