blink-182 : Travis réalise un remix de "Falling Down" de Lil Peep et Lil Wayne quitte [pas] la tournée Enema of the State ! [MAJ]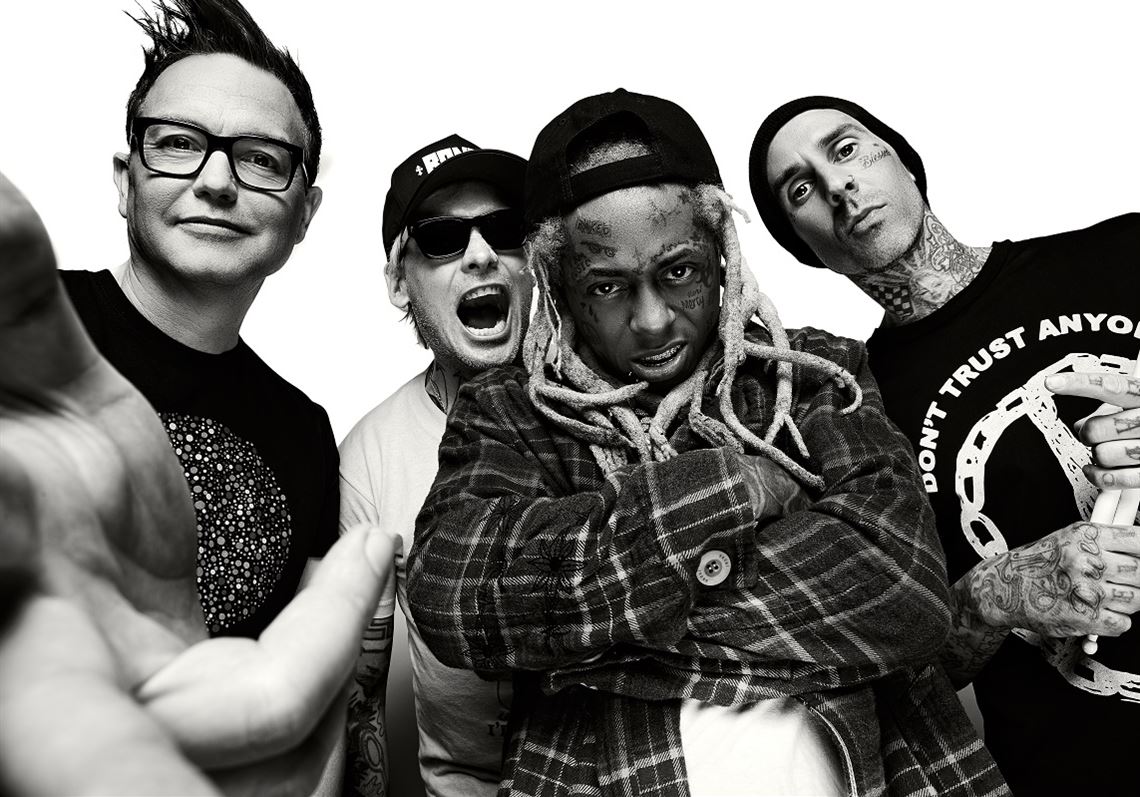 On a pas fini de parler de
blink-182
! Actuellement en pleine tournée pour les 20 ans de l'album
Enema of the State
(on en reparlera plus bas), on commence avec la bonne nouvelle et une nouvelle vidéo de
Travis Barker
(batterie) qui a réalisé
un remix du morceau "Falling Down"
du rappeur regretté
Lil Peep
!
Le morceau figure à la base du le second album posthume de Peep, et a été revigoré façon punk rock par Travis, qui a reconnu s'être inspiré du classique de blink-182, "Adam's Song", qui a été une grosse influence pour son remix.
La chanson présente également le featuring de XXXTenacion, rappeur assassiné il y a un an déjà, et qui avait reconnu avoir frappé sa compagne ainsi qu'assassiné 9 personnes (son featuring avait été ajouté après la mort de Lil Peep).
Passons aux nouvelles moins réjouissantes (quoique), le rappeur Lil Wayne aurait lâché la tournée commune avec blink-182 moins de deux semaines après son lancement, en plein milieu du concert, après 4 chansons et 20 minutes de set !
Ce se serait passé hier soir au Jiffy Lube Live de Bristow en Virginie, et plusieurs fans rapportent que le rappeur aurait arrêté son set prématurément en disant qu'il en avait fini avec la tournée
I think Lil Wayne just quit the Blink 182 tour. (Yes, that's the same show)

Played for like 20 mins

— Jordan Pascale🎙️ (@JWPascale) July 12, 2019
🤣 Lil Wayne preformed four songs tonight and then abruptly ended his set and quit the tour he is on with Blink-182.

— Terry Camp (@terrycamp12) July 12, 2019
— JJReal (@JJREALMUSIC) July 12, 2019
— Daniela J Sinner (@djsinner92) July 12, 2019
Il se serait plaint de la taille de la foule et a déclaré qu'il n'y avait pas assez de "ses" fans.
He said it wasn't "his" crowd and it might be his last show of the tour. And then he cut his set list in half and walked off. The band looked confused as fuck

— From Chaos 🌊 (@rella311) July 12, 2019
Wow ,

@LilTunechi

just said this maybe his last night in the Blink 182 tour. Cited the lack of rap fans/his fans

— Kingmoe83 (@ikingmoe) July 12, 2019
@LilTunechi

just dissed everyone saying this might have to be his last night on this tour Pretty Much because we aren't good enough for him! Honey you are the odd ball out here, you decided to play between

@NeckDeepUK

and

@blink182

— abigail (@abigailnewcomb1) July 12, 2019
Lil Wayne said "ain't enough of y'all *** here, I'm out"

AND STRAIGHT UP LEFT THE SET AFTER 4 SONGS... IM DEAD🤷🏼‍♀️💀 (but at least I got some videos)

pic.twitter.com/KSVUHkPQND

— kish (@k_kishh) July 12, 2019
Apparemment une alerte météo dans la région, avec la menace d'une tempête, expliquerait pourquoi il y avait moins de monde :
Mr. Carter. By the time we pulled up got our ticket and sat in our seats, Your set was over. Niggas braved the rain and hours of traffic just to hear 2 songs in the parking lot.

@LilTunechi https://t.co/FCyqWA7vs3

— Joy (@trillmaiden) July 12, 2019
Giant storm in VA kept a lot of people from coming. Maybe 8000 people here....

— Brandon Beall (@BulletBeall) July 12, 2019
Lil Wayne s'est arrêté en plein milieu d'une chanson pour faire une déclaration. Il a expliqué qu'il n'était "pas sûr de savoir combien de temps il pourrait faire cette tournée" :
"Attendez, je veux juste que les gens sachent, si vous vous demandez, s'il vous plait pardonnez-moi mais je n'ai pas l'habitude de jouer devant une foule - et vous n'être pas si nombreux - ce n'est pas mon swag. Je ne sais pas combien de temps je pourrais faire cette tournée, mais faites du bruit pour blink-182 qui m'y a inclus. Ce pourrait ma dernière soirée cela dit".


La bonne nouvelle (décidé avant que Lil Wayne ne parte), c'est que
All Time Low
se joint aux dates restantes aux côtés de blink-182 et Neck Deep.
Mise à jour à 21h 55 : Roulement de tambour ! Lil Wayne annonce qu'il ne quittera pas la tournée :
"Hier c'était Krazy ! Mais je veux que tous mes fans sachent que je n'abandonnerai pas cette tournée ! Je m'amuse trop avec mes potes de blink-182. Bangor, ME On se voit demain !".
Yesterday was krazy! But I want all my fans to know I won't be quitting this tour! I'm having too much fun with my bros blink-182. Bangor,ME See you tomorrow!

— Lil Wayne WEEZY F (@LilTunechi) July 12, 2019