All Time Low : streaming de "Melancholy Kaleidoscope", "Trouble Is" et "Wake Up, Sunshine" [MAJ]
Et de 4 pour
All Time Low
, qui continue (et continueront) à poster le streaming de nouveaux morceaux jusqu'à la sortie de leur nouvel album,
Wake Up, Sunshine
, qui sort officiellement le 3 avril prochain. Le groupe a cependant précisé hier que l'album ne sera pas envoyé dans les temps, mais sera bien disponible sur les plateformes de streaming dès le 3 avril comme convenu. Les commandes passées depuis le
site officiel
devraient cependant (sous réserve de changement) être honorées dans les temps.
En effet, à cause de la pandémie de coronavirus, la production et l'envoi de CD et vinyles a été reportée. Amazon a même arrêté de stocker les items non essentiels dans ses entrepôts pour faire plus de place aux fournitures médicales .
Découvrez maintenant ce nouveau morceau, intitulé "Melancholy Kaleidoscope", toujours très pop punk pour notre plus grand plaisir :
Alex Gaskhart
(chant, guitare) a également réalisé un commentaire piste par piste du nouvel album pour
Kerrang!
!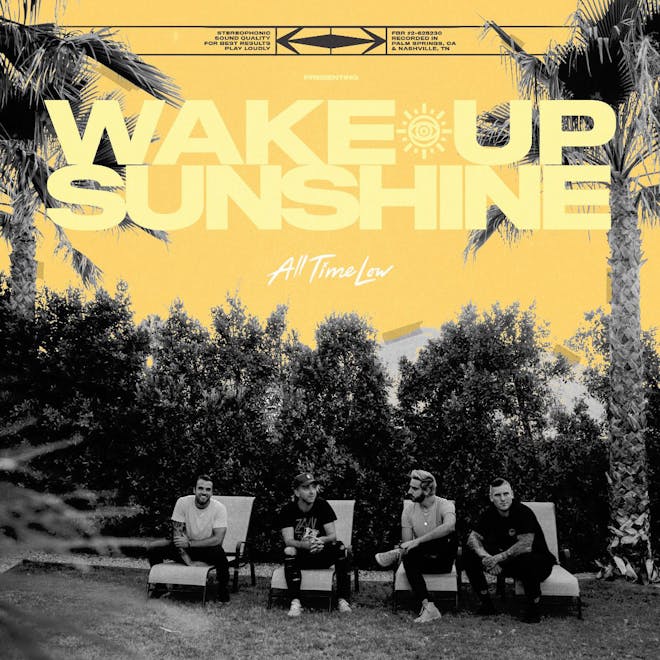 1. "Some Kind of Disaster"
2. "Sleeping In"
3. "Getaway Green"
4. "Melancholy Kaleidoscope"
5. "Trouble Is"
6. "Wake Up, Sunshine"
7. "Monsters" feat. blackbear
8. "Pretty Venom (Interlude)"
9. "Favorite Place" feat. The Band CAMINO
10. "Safe"
11. "January Gloom (Seasons pt. 1)"
12. "Clumsy"
13. "Glitter & Crimson"
14. "Summer Daze (Seasons pt. 2)"
15. "Basement Noise"


Le groupe nous offre en prime une performance live et acoustique de "Dark Side of your Room" :
Mise à jour du 28/03/20 : Après "Melancholy Kaleidoscope", All Time Low (pop punk) nous dévoile un 5ème titre de Wake Up, Sunshine avec le streaming de "Trouble Is" ! Et oui, c'est toujours pop punk à fond.
Mise à jour du 01/04/20 :
A 2 petits jours de la sortie de
Wake Up, Sunshine
, All Time Low nous dévoile un 6ème extrait avec le streaming du morceau éponyme !